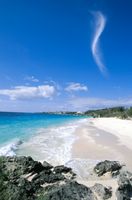 Beautiful Bermuda
Beautiful Bermuda. With all that has been going on with Hurricane Katrina, most of my attention has been focused on collecting supplies and doing what I can to try and aid the survivors of such a devastating event. But I would be remiss if I didn't send some love to an island that opened it's hospitable arms and welcomed me like the prodigal child returning home.
I visited the island from September 1st to September 4th for my first booksigning and a live radio broadcast.
Love to True Reflections Bookstore located in a quaint walkdown in parish of Hamilton surrounded by Bistros and quiet places to sit and reflect. Also only a stone's throw away from a HUGE Louis Vuitton store. Can't be mad at that. Valerie Young and Michelle really took care of a sistah and I will forever be grateful.
Also big holla's going out to the staff of the Hott 1075 Radio Station who let me take over the midday radio waves and made a little black girl from Chicago feel like a star. Bootise, Nefertari, Isadore, Brittney and Miss Thang .... please let me return the favor when you come to my city.
For those that have never been, I recommend running your toes through the pink sand and splashing in the blue waters. Don't leave without taking a tour and learning some of the rich history. Hangout at the Swizzle Inn where most who patronize swagger out. Eat a fish sandwich and visit the coves. BUT WHATEVER YOU DO, don't think you can out drink a Bermudian, 'cause baby .... on that little island they know how to knock 'em back. And I love that about them. On an island that's extrodinary, lives a people that outshines it by miles.